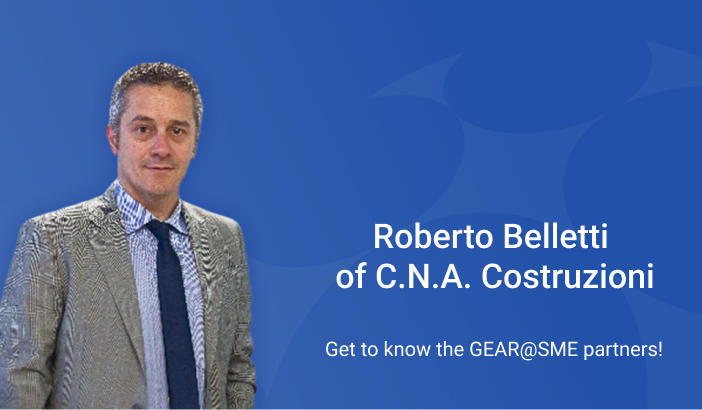 15 Feb

Get to know the GEAR@SME partners! The multiple benefits are particularly exciting – interview with Roberto Belletti of C.N.A. Costruzioni

Dear Roberto Belletti, please introduce youself and your company.

Roberto Belletti (54): I am area manager of the SMEs department related to energy, construction, buildings, installations at the national confederation of handcrafts and of SMEs territorial association of Ravenna in Italy. C.N.A. RAVENNA represents companies and entrepreneurs throughout the province of Ravenna, supporting them to develop, innovate and safeguard their business, contributing decisively to supporting the entire community.

The membership is composed by around 6.000 enterprises and 10.000 entrepreneurs, and is supported by operative structures (SEDAR, ECIPAR, CNA Innovation) active in the fields of consultancy and assistance, services and innovation, entrepreneurial and professional training.

CNA represents, promotes and protects the companies that operate in overall sectors: CCI, energy, installers, building and construction chain, transport and logistic, production, mechanical, ICT and communication, food, art, wellness, health, commerce, tourism, fashion.

What does C.N.A. Ravenna do at GEAR@SME?

In the GEAR @ SME project, C.N.A RAVENNA is a multiplier organization. As a business support organization, C.N.A will contribute to broaden the resonance of the approach, helping to create the conditions for companies to find the right support and motivation for starting energy efficiency interventions. Together with me, three other colleagues are active in the GEAR@SME project: Massimo Mazzavillani, Nevio Salimbeni and Franco Ventimiglia.

What do you like about the GEAR@SME project?

For C.N.A. it is very interesting to encourage energy efficiency in SMEs. We are also very interested in the concept of "Multiple Benefits", that is the exploitation of the benefits that can be obtained from the structured approach to energy efficiency, which go beyond simple savings on the bill. I think that for companies associated with C.N.A. this aspect may be of great interest. Multiple benefits are non-energy benefits that an energy measure can bring to a company when directly linked to its core business, by reducing risks, costs or increasing its value proposition.

What are your goals for the project?

Motivating SMEs to take energy audits is an important first step to actual energy efficiency, since a well-conducted audit will provide the SME with the necessary information on interesting opportunities for energy efficiency. I really hope for a strong dissemination of project activities and results that will lead more and more to cost reductions for SMEs and obviously to greater benefits for the environment.

Thank you for the interview.