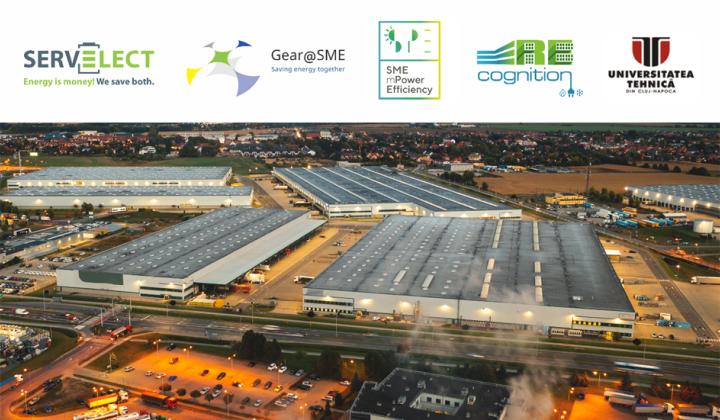 10 Dec

Saving energy together in industrial parks

Workshop in Romania on energy efficiency in industrial parks and innovative energy solutions

How can energy efficiency be implemented in a collective approach? These and other questions were discussed at the workshop for stakeholders interested in the topic of energy efficiency on industrial parks and innovative energy solutions. The workshop was organised by the two Romanian GEAR@SME partners Servelect and the Technical University of Cluj-Napoca. At this event, besides GEAR@SME, other Horizon 2020 projects, RE-COGNITION and SMEmPower Efficiency were presented and synergies were established.

"The aim of the workshop was not only to present the GEAR@SME project and concept to a large auditorium," says Timea Farkas, the Use Case Operator in the Romanian Use Case, "but also to network potential trusted partners (industrial parks), SMEs, energy service providers and associations (Association of Energy Auditors and Energy Managers, Romanian Association of Industrial, Technological, Scientific and Business Incubator Parks) and to raise awareness of the GEAR@SME project issues."

In this way, new ideas and experiences on the topic of innovative energy services could be called up, collected and exchanged in targeted brainstorming phases. The 50 participants also learned about training opportunities for SMEs such as the postgraduate programme "Energy efficiency and sustainability for energy managers" organized within SMEmPower Efficiency project. Another topic was financial sources for the implementation of energy efficiency measures. "It is very important, especially in this context, to support companies by offering a full access to various approaches, opportunity and results developed in research progress", argues Stefan CIRSTEA, associate professor at TUCN and one of the lecturers at the event, "This is why the Energy Transition Research Center (EnTReC) and Technical University of Cluj-Napoca (TUCN) are focused to strength both industrial implementation of the R&D results and linkage between academia and business environment." 

Also Timea Farkas is sure: "The event was a great opportunity to bring together different stakeholders and start a discussion on how to implement the collective approach to energy efficiency from different perspectives". Thus, she says, the brainstorming session was very purposeful to get relevant comments and questions from the auditorium that will be important for the further development of the use case in Romania.

Further events will be organized within the use case to promote the collective approach along with the benefits the projects for the different stakeholders. Also, future training opportunities were disseminated.